A date for October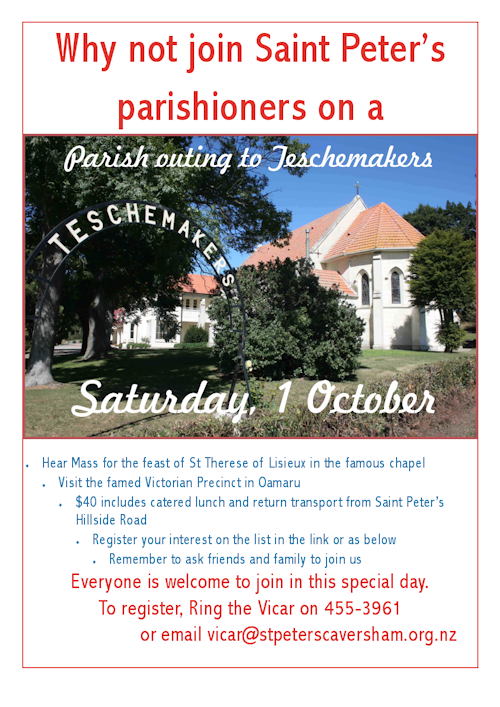 Why not join Saint Peter's parishioners on a day trip to Teschemakers and Oamaru? Get the details here.
If you would like to support Saint Peter's but are not able to attend our services to make an offering, you can donate here.

The Rock
The September edition is now available online. Printed copies are available in Church while they last, but you get it first online! See below how to get a handy email when each new issue is available.
Our Printed Heritage page now includes all available issues up to September of 1960.
Recent Photographs

Gardeners at work
On 10 September we held a Spring working bee in the curch grounds. See the photo's of parishioners at work in our photo. gallery.

Garage sale 2016
shots of this year's garage sale in our photo. gallery.
Coming Events
Saturday, 1 October : Parish outing to Teschemakers. To join Saint Peter's parishioners on a day trip to Teschemakers and Oamaru, get the details here.
Tuesday, 1 November : 7.30 pm first of the Caversham lectures, 'What makes for a good doctor?' – Dr Stephen Tripp
Tuesday, 8 November : 7.30 pm second Caversham Lecture, 'Child Welfare – Can We Deliver and How Will We Know?' – Len Cook, Families Commissioner and Chairman of the Social Policy Research and Evaluation Unit
Tuesday, 15 November : 7.30 pm third Caversham Lecture, 'Practical End of Life Issues' – a panel discussion including Keith Gillion, Dr Tony Fitchett, Professor Peter Skegg and a palliative care nurse
Tuesday, 22 November : 7.30 pm fourth Caversham Lecture, 'The New Zealand Youth Justice System: leading the world' – Brian Kilkelly, Dunedin Barrister.
Tuesday, 29 November : 7.30 pm fifth Caversham Lecture, 'Exploring and Exploiting the Secrets of Life itself: the wonderful possibilities and potential perils of breakthroughs in medical research' – Don Evans, a bio-ethicist and a parishioner of St Matthews Dunedin surveys the life enhancing and life extending possibilities flowing from current stem cell research and the ethical dilemmas they present.
Choral Evensong
On 17 July, the Choir of St Paul's Cathedral visited Saint Peter's and sang Choral Evensong and Benediction, with Rachmaninov's Magnificat and Nunc Dimittis in the original Church Slavonic. Another wonderful special Service which you can see below.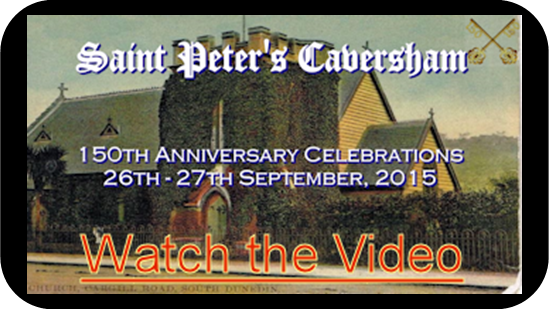 We have videos available of:
the Diocesan Synod Service
the 150th Anniversary Solemn Sung Eucharist
Bishop Victoria Matthews' sermon at the 150th Anniversary Service
A documentary of highlights from the 150th Anniversary weekend - including, in full, Our Vicar's talk on Colourful Past Vicars of Saint Peter's
Check the 'Services at Saint Peter's' page in the menu for video of the Services and sermon. The 150th Anniversary Highlights video is available here.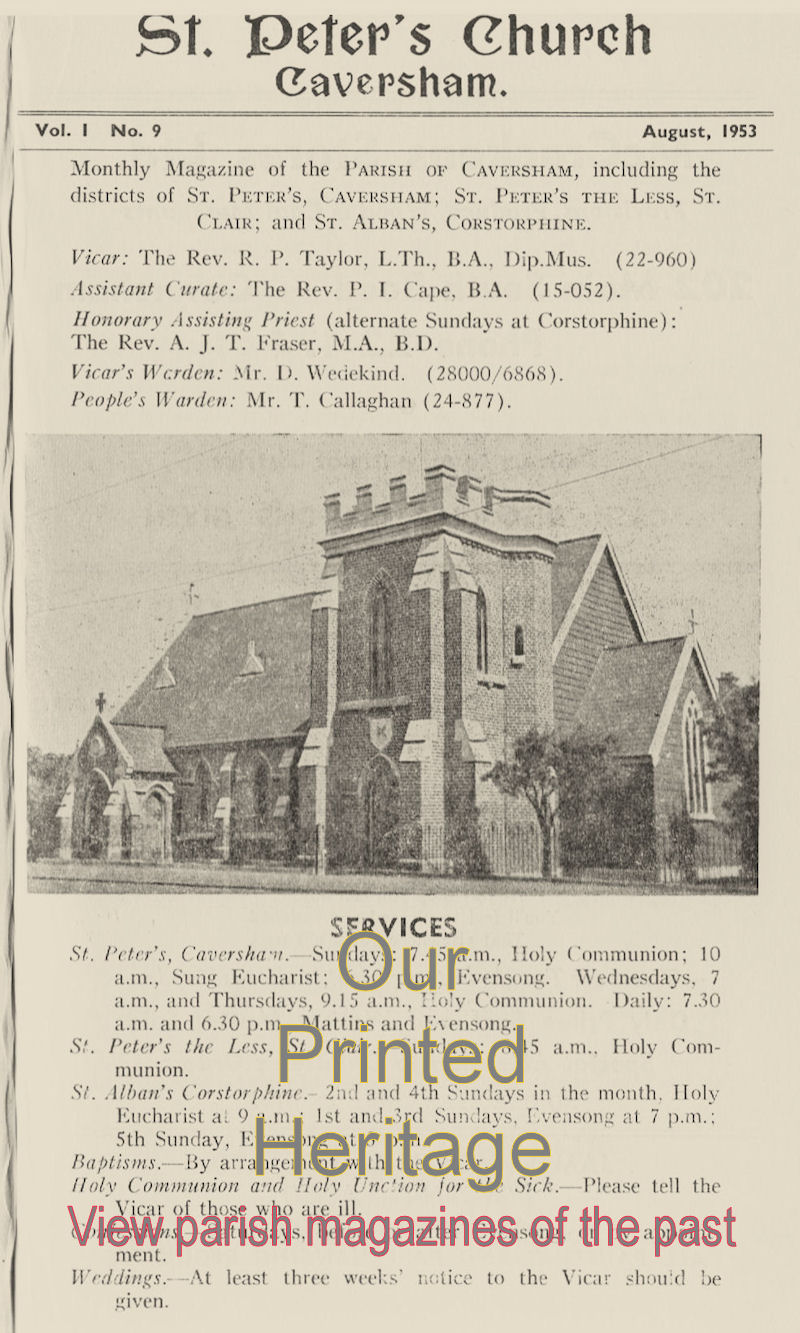 Our Printed Heritage
An additional issue of our early parish magazines is added to our online archive each month when The Rock is published..
All those from December 1952 (the earliest one) to this month in 1960 are now available.
Do It Online

Register for new sermon notifications

Register for email notification of Caversham Lectures news

Register for email notification when 'The Pebble' becomes available online each week

Register here to get an email each time 'The Rock' online edition is published

To update your details on the parish roll, email RollUpdate@stpeterscaversham.org.nz with your name/s, address, email address and telephone number

Log in to Parishioners' pages

Log in to Vestry Members' pages.
57 Baker Street, Caversham, Dunedin, New Zealand +64-3-455-3961 : or e-mail us