If you would like to support Saint Peter's but are not able to attend our services to make an offering, you can donate here.

Night Skies video available
On Tuesday, 31 January, Saint Peter's hosted Archdeacon Neville Selwood. Over 45 people listened to him talk with Vicar Hugh Bowron about his experiences as a Lancaster navigator during World War 2.
You can see the archdeacons's recollections of his time in Bomber Command here in High Definition.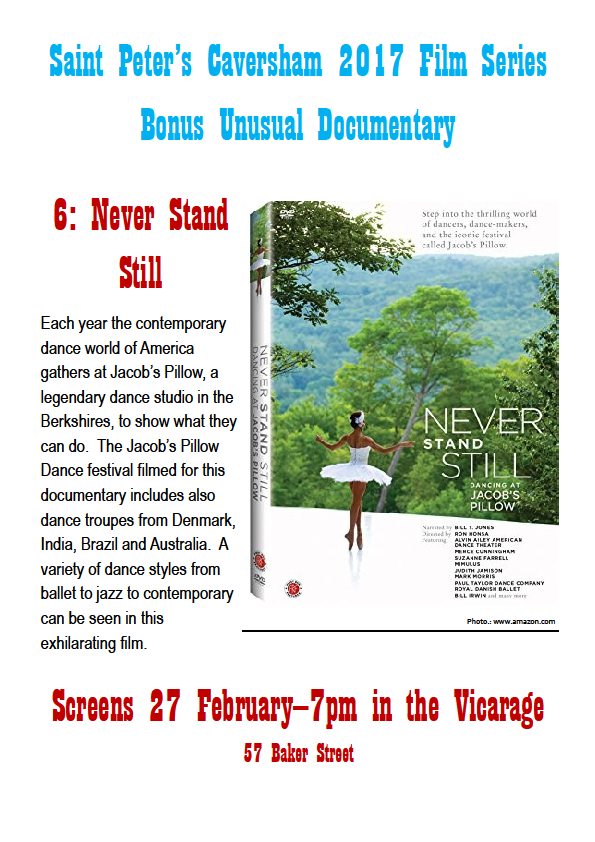 2017 film series
Screening in the Vicarage from late January to mid-February on successive Monday nights beginning at 7pm are five unusual documentaries. Drawn in the main from the Vicar's archive, they are outside the mainstream yet are of unique interest.
Learn more about the 2017 film season.
Coming Events
Sunday, 26 February : Harvest Festival celebration
Monday, 27 February : Never Stand Still–A previously unscheduled bonus in this year's film series
Wednesday, 1 March : Ash Wednesday – Lent begins
Holy Week Services : 10–16 April :
– Monday, Tuesday, and Wednesday at 5.30pm : The Eucharist
– Maundy Thursday : 7pm Commemoration of the Institution of the Lord's Supper
– Good Friday : 12noon Celebration of the Lord's Passion
– Holy Saturday : 8pm Easter Vigil, and first Mass of Easter
– Easter Day :
..........8am Holy Communion
......... 10.30am Solemn Sung Eucharist and procession
Friday, 28 April : Diocesan farewell to Bishop Kelvin in the Cathedral at 6.30pm. RSVP by Friday, 13 April to Debbie on 488-0820 or debbie@called south.org.nz
May : date to be decided - a concert of British art songs. Proceeds to the installation of the Woodhouse Memorial stained glass window in the Link
26 - 28 May : Electoral Synod – Burns conference centre (Holy Cross Mosgiel)
Saturday, 15 July : Celebrity Organ Recital. John Linker, the music director at the Christchurch transitional Cathedral
Sunday, 26 November : Feast of Christ the King. Archbishop David Moxon presides and preaches
Tuesday, 28 November : Last of The Caversham Lectures. Archbishop David Moxon – The current state of Anglican Roman Catholic relations
The Rock
The December edition is now available online. Printed copies will be available in Church while they last, but you get it first online! See below how to get a handy email when each new issue is available.
Our Printed Heritage page now includes all available issues up to January of 1961.
Recent Photographs

Christmas and New Year's Eve 2016
The Photo. Gallery gives you an idea of the mystique of candle lit Services.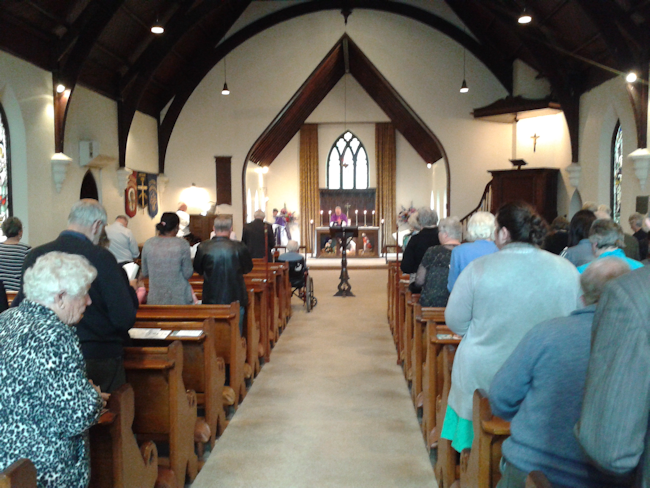 Festival of Nine Lessons and Carols
A large congregation joined in the traditional Festival of 9 Lessons and Carols on Sunday, 18 December. More photo's are in the Photo. Gallery

Karsyn Ludlow baptised
Karsyn Rex Ludlow was baptised on 27 November by Our Vicar, Father Hugh Bowron. We have photo's of Karsyn's baptism in the photo. gallery.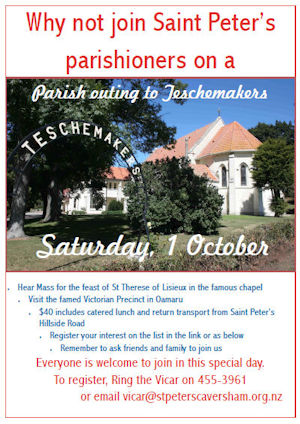 Day trip to Teschemakers
On 1 October Saint Peter's took a coach trip. See the photographs of our day trip to Teschemakers in the photo. gallery.

Gardeners at work
On 10 September we held a Spring working bee in the curch grounds. See the photo's of parishioners at work in our photo. gallery.
Choral Evensong
On 17 July, the Choir of St Paul's Cathedral visited Saint Peter's and sang Choral Evensong and Benediction, with Rachmaninov's Magnificat and Nunc Dimittis in the original Church Slavonic. Another wonderful special Service which you can see below.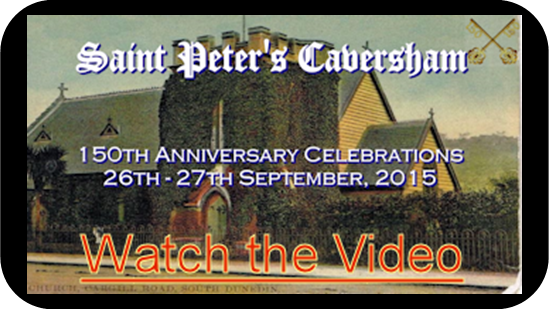 We also have videos available of:
the Diocesan Synod Service
the 150th Anniversary Solemn Sung Eucharist
Bishop Victoria Matthews' sermon at the 150th Anniversary Service
A documentary of highlights from the 150th Anniversary weekend - including, in full, Our Vicar's talk on Colourful Past Vicars of Saint Peter's
Check the 'Services at Saint Peter's' page in the menu for video of the Services and sermon. The 150th Anniversary Highlights video is available here.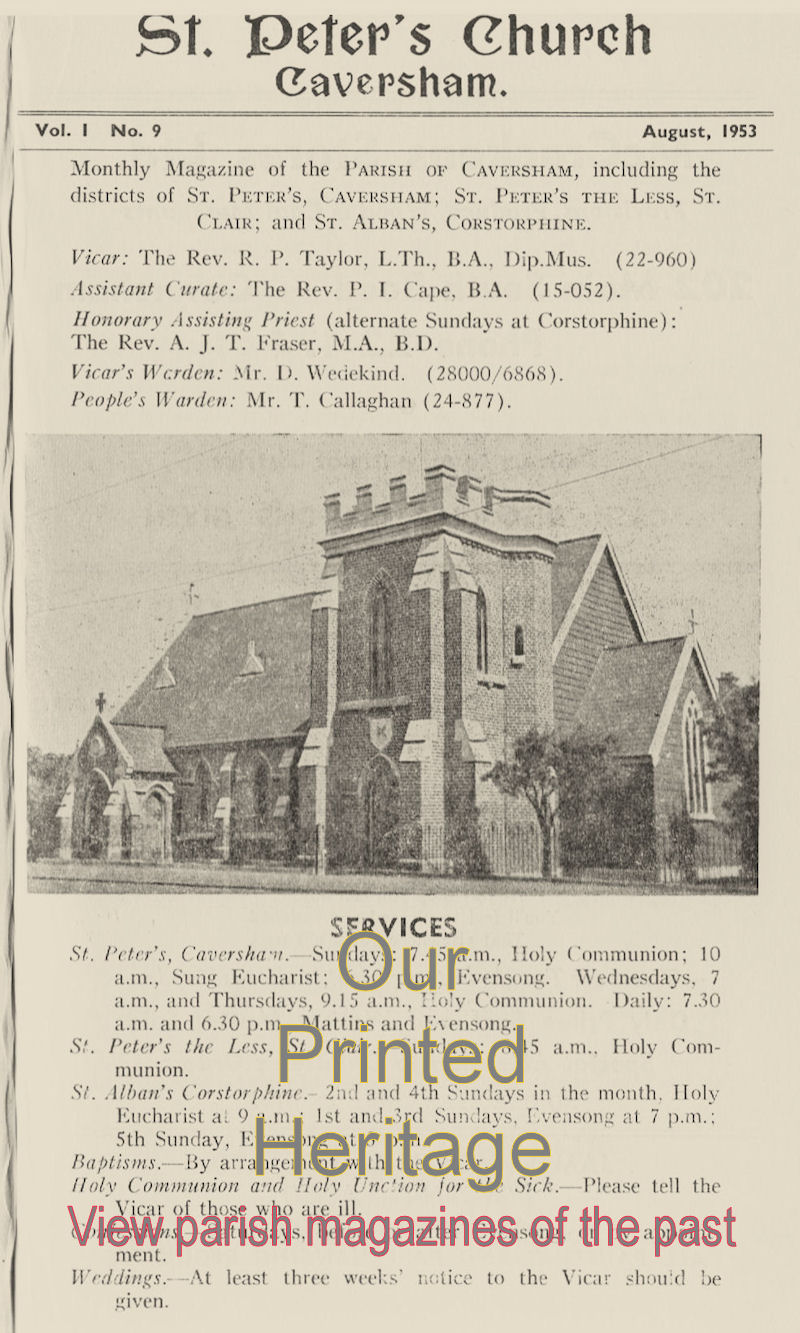 Our Printed Heritage
An additional issue of our early parish magazines is added to our online archive each month when The Rock is published..
All those from December 1952 (the earliest one) to this month in 1960 are now available.
Do It Online

Register for new sermon notifications

Register for email notification of Caversham Lectures news

Register for email notification when 'The Pebble' becomes available online each week

Register here to get an email each time 'The Rock' online edition is published

To update your details on the parish roll, email RollUpdate@stpeterscaversham.org.nz with your name/s, address, email address and telephone number

Log in to Parishioners' pages

Log in to Vestry Members' pages.
57 Baker Street, Caversham, Dunedin, New Zealand +64-3-455-3961 : or e-mail us