-->
Normal Services are being held, though under COVID alert level 2 protocols.
The Rock
The October edition is now available online.
Printed copies will be available in Church from Sunday while they last. You'll get it first online though. See below how to get a handy email when each new issue is available.
Our Printed Heritage page now includes all available issues up to October of 1965.
Coming Events
Saturday, 30 October : Organ recital by Dianne Halliday
Tuesday, 2 November : Caversham Lecture—Glen Hazelton, a leading urban designer with the Dunedin City Council
Tuesday, 9 November : Caversham Lecture—Richard Whitney, CEO of Mercy Hospital
Tuesday, 16 November : Caversham Lecture—Peter Belton, a Master of Fine Arts with a background in secondary school teaching and teacher education
Sunday, 21 November : Deadline for copy for the November edition of The Rock
Tuesday, 23 November : Caversham Lecture—Rev Dr Peter Matheson, Emeritus Professor, Knox Theological College, Dunedin

Arts and Crafts success
We held our first Arts and Crafts day in October – and it was a stunning success. See the photo's of our Arts and Crafts day in the photo. gallery.
Introduction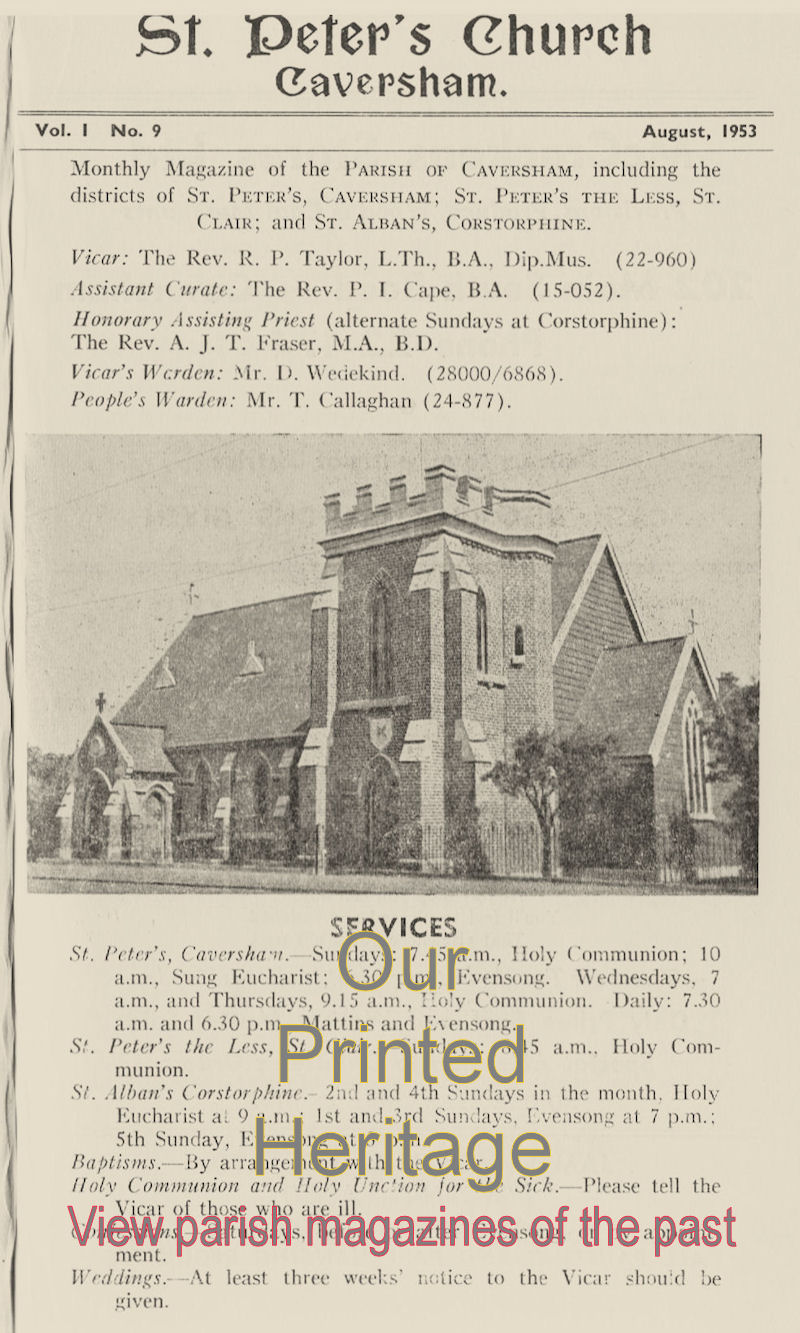 Our Printed Heritage
An additional issue of our early parish magazines is added to our online archive each month when The Rock is published..
All those from December 1952 (the earliest one) to this month in 1965 are now available.
Do It Online

Register for new sermon notifications

Register for email notification of Caversham Lectures news

Register for email notification when 'The Pebble' becomes available online each week

Register here to get an email each time 'The Rock' online edition is published

To update your details on the parish roll, email RollUpdate@stpeterscaversham.org.nz with your name/s, address, email address and telephone number

Log in to Parishioners' pages

Log in to Vestry Members' pages.
57 Baker Street, Caversham, Dunedin, New Zealand +64-3-455-3961 : or e-mail us