Father Hugh Bowron
an autobiography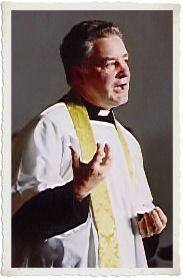 This is the second time I have been Vicar of a St Peter's, for I was the Vicar of St Peter's, Willis St, in inner city Wellington for ten years. Before that I was the Vicar of St Mary's, Addington in Christchurch for nine years. That was after my four years as a country Vicar of Ellesmere in Mid Canterbury; at the some time I might add that Bishop Kelvin was the Vicar of Waiho Downs, so we began our sole charge ministries at the same time.
I was of that generation that went into the priesthood straight from university. The difference from many of my contemporaries is that I trained in Britain at the College of the Resurrection, Mirfield. That meant that the religious community in the monastery adjoining the College was a major influence on the way we were formed for ministry. Amongst other things we were introduced to a high standard of liturgical competence. There was also the expectation that a priest would be a man of prayer, a spiritual leader first and foremost, who would know what they were about in trafficking in things of the spirit.
I am no stranger to Dunedin, having visited my son Tim often in his student flat in Northeast Valley. Currently he is finishing his Spanish masters degree in Wellington. We spent July together in Spain, where his fluent Spanish was extremely helpful as we made our way around the pilgrimage sites of Montserrat and Compostela, and the medieval cities of the interior. My daughter Katie is studying plant biology at Canterbury University. It has been an intriguing change of direction from her first degree in architecture at Victoria.
I have also come to Dunedin for theology conferences to pursue my particular interest in systematic theology. The theology department at Otago is well known to me. The doctrine of God, with a particular emphasis on Trinitarian theology, and Pneumatology, the theology of the Holy Spirit, has become an absorbing interest in recent years.
In my spare time I watch lots of art house movies, and read history, novels, and poetry.
The great thing about being a parish priest is that you become involved in the lives of a wide variety of people, and come to share in their joys and sorrows at major turning points in their lives. A colleague of mine once said to me, "This is a job, Hugh, that finds out all your immaturity, and makes you do something about it.". There have been occasions when I have felt out of my depth in encountering people at times of primal need, and have thought to myself, "This is more interesting than just about anything else I could have done." I thank God for the people of God who have enriched me in so many ways through the privilege of ministering to them over the past thirty years.
Father Hugh's sermon when he visited Saint Peter's in September.
57 Baker Street, Caversham, Dunedin, New Zealand +64-3-455-3961 : or e-mail us