Brian Kilkelly Speaks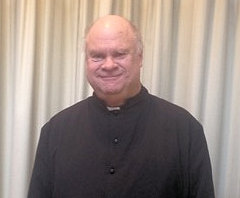 Sermons may be offered in text and as audio and video streams - just click the appropriate link for the format you wish to use.
(If you do not have audio software installed, you may get it for free from
RealNetworks
by clicking
here
.)
All material linked to from this page is copyright © by Father Brian Kilkelly who asserts his right to be recognised as the author and owner of all rights associated.
Father Brian Kilkelly
Toeing the line
Sixth Sunday in Ordinary time : 16 February 2020
As a practising barrister, our Assistant Priest is familiar with testing the limits of the rules when acting for his clients. But, he asks, "What purpose did The Lord intend by giving us laws?"
Father Brian Kilkelly
Family matters
Feast of the Holy Family : 29 December 2019
The Holy Family was hardly a "normal" family, yet its life holds lessons for our modern families.
Father Brian Kilkelly
Wild prophet
2nd Sunday in Advent : 8 December 2019
John the Baptist was a prophet for his times – but he has much to offer us too.
Father Brian Kilkelly
Twist to the story
All Souls : 3 November 2019
One of this morning's readings has a twist in the tail which gives some insight into God's way of helping us handle distress.
Father Brian Kilkelly
Earthly riches
19th Sunday in Ordinary Time : 11 August 2019
This morning's Gospel reading from Luke has our Assistant Priest pondering the relative merits of earthly riches and heavenly capital.
Father Brian Kilkelly
Alive and well
Pentecost : 9 June 2019
As we celebrate the feast of Pentecost, Our Assistant Priest ponders the apparently increasingly secular society in which we live – and finds cause for hope.
Father Brian Kilkelly
Sorrowful farewells
Easter 6 : 26 May 2019
Saying goodbye can be sad, but as Christians we have a clear answer.
Father Brian Kilkelly
Called to serve
Easter 3 : 5 May 2019
Not all of us are called to be priests, but we are all called to serve The Lord–one way or another.
Father Brian Kilkelly
Rock Opera
Palm Sunday : 14 April 2019
Father Brian Kilkelly
Making space
Lent 1 : 10 March 2019
The real importance of Lent is not in the superficial changes we make for the season – no matter how hard they may be – but in creating circumstances for a more fundamental change in our life.
Father Brian Kilkelly
Hard to swallow
Ordinary 7 : 24 February 2019
Our Assistant Priest uses this morning's reading from Luke's Gospel to examine Bible passages which are not as they seem.
Father Brian Kilkelly
Well Pleased
Baptism of the Lord : 13 January 2019
As we celebrate the Baptism of Our Lord, our Assistant Priest looks at what baptism meant for Christ, and what it means for us.
Father Brian Kilkelly
Families
Feast of the Holy Family : 30 December 2018
From Jesus' family to our present day families to our Church families, Father Brian considers the nature of families and how we can ensure their happiness and success.
Father Brian Kilkelly
No soft message
Advent 3 : 16 December 2018
A look at the work of John the Baptist – a direct and plain preacher.
Father Brian Kilkelly
King of our lives
Feast of Christ the King : 25 November 2018
Father Brian looks at Our Lord's leadership style and differences to those of earthly leaders.
Father Brian Kilkelly
From Dark to Light
Ordinary 30 : 28 October 2018
Struck by this morning's reading from Mark's Gospel, Our Assistant Priest looks at the ways we can move from darkness into light.
Brian Kilkelly
Two By Two
Ordinary 15 : 15 July 2018
Pondering today's Gospel reading, Our Deacon considers the importance of togetherness in our Christian walk.
Brian Kilkelly
Mothering Us
Mothering Sunday : 11 March 2018
Our guest preacher – a Saint's parishioner – looks at the essences of motherhood, how they appear in all of us and are fundamental to the Church.
Brian Kilkelly
Found in the wilderness
Advent 2 : 10 December 2017
A guest preacher considers the importance of the wilderness – physical or metaphorical – in our spiritual development.
57 Baker Street, Caversham, Dunedin, New Zealand +64-3-455-3961 : or e-mail us