Kit Bunker Speaks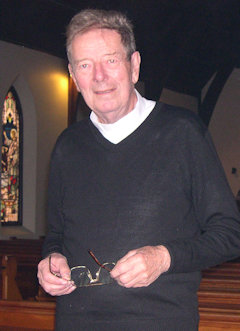 Sermons may be offered in text and as audio and video streams - just click the appropriate link for the format you wish to use.
(If you do not have audio software installed, you may get it for free from
RealNetworks
by clicking
here
.)
All material linked to from this page is copyright © by the Reverend Kit Bunker who asserts his right to be recognised as the author and owner of all rights associated.
Reverend Kit Bunker
Being ready
1st Sunday in Advent : 1 December 2019
As Advent begins and signals a new beginning, it also signals a warning of the end.
Reverend Kit Bunker
Crucial
20th Sunday in Ordinary Time : 18 August 2019
This morning's Gospel Reading brings to mind that which is the very essence of the Christian Faith.
Reverend Kit Bunker
Prayer
17th Sunday in Ordinary Time : 28 July 2019
The appearance of the Lord's Prayer in one of this morning's readings prompts these thoughts on the nature and purpose of prayer.
57 Baker Street, Caversham, Dunedin, New Zealand +64-3-455-3961 : or e-mail us