Father Carl's Finale
Sunday, 23rd January 2011, was Father Carl Somers-Edgars' last day as Vicar of Caversham.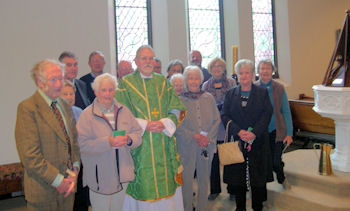 This group of &nbsp&quot 8 o'clock regulars'&quot was there as usual for Our Vicar's final Holy Eucharist as Vicar of Caversham.
Several members of the congregation were heard to say how much they would miss Father Carl. There is every chance he will not miss being up and alert for the 8am sermon!
We will publish photographs from later services and events as they come to hand. If you have any to offer, please send them to the webmaster.
57 Baker Street, Caversham, Dunedin, New Zealand +64-3-455-3961 : or e-mail us