Saint Peter's Church in Caversham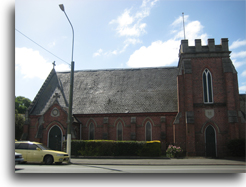 In the early days, the parish extended to Taiaroa Head, and included a Church at Otakau (Otago), in which some Anglican services were held.
A meeting convened in the Edinboro' Castle Hotel on 4 January 1864 to discuss building a church in Caversham. They had £294. 4s.0d and an acre of land near the gasworks which was donated for the purpose. It was drier than the swamp with open ditches that covered much of Caversham Flat. Unable to afford the stone church they wanted, the meeting decided on a wooden one. It was the second Anglican Church to be built in Dunedin, after the original St Paul's Cathedral.
The ground plan was pegged out on 6 February, the foundations built, and on 22 March 1864 the Church was consecrated by Bishop Harper of Christchurch - there was as yet no bishop of Dunedin.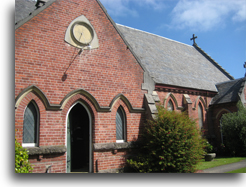 By 1881, a larger church was needed, one closer to the centre of population on the flat. Bishop Nevill laid the foundation stone on the present site in 1882, and six hundred people braved the cold and wet. The building was quickly erected, but the foundations had been skimped, and it soon sank into the soil with the tower six inches out of plumb. The intended spire could never be built since it would be likely to blow over in the wind. This cost £335 to correct, but the Church squeezed £250 compensation out of the architect. The original wooden Church was sold for £150 to become Saint Mary's, Mornington, where it served until 1965. The present Vicarage was built in 1912.
In 1943 the ivy surrounding the Church was removed as it was damaging the brickwork, but it was not until 1958 that plans were drawn up for completion of the Church, with a new chancel, the redecoration of the walls, and the overhaul of the pews and lighting.
57 Baker Street, Caversham, Dunedin, New Zealand +64-3-455-3961 : or e-mail us