St Alban's Hall in Corstorphine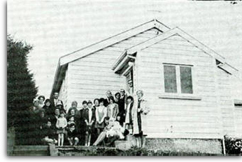 In 1947, the Government decided to make a new State Housing area in the hill suburb of Corstorphine (basic houses, to be rented at subsidised rates to the less well off). It was within the boundaries of Saint Peter's parish, so The Vestry immediately saw a mission need.
They built a concrete base, bought the disused women's dormitory from a military camp, and then on Easter Eve thirty volunteers put up the building. Bishop Fitchett consecrated it in December 1947. He agreed that St Alban, the first known martyr of the British Church, should be its patron, and the patron of any future church.
Unfortunately, there never was a future church. The hall closed as a religious building in 1973 and was sold to the Underwater Club.
57 Baker Street, Caversham, Dunedin, New Zealand +64-3-455-3961 : or e-mail us