The Parish Hall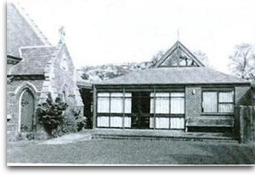 The first Sunday School building at Saint Peter's was second hand: the Green Island school bought in 1884 for £ 36.
In 1912, the City Council widened Hillside Road, buying a strip of land from the Church. The proceeds were used to buy two houses on the corner of Hillside Rd and Eastbourne St, and enlarge what was now called the Parish Hall. One house was demolished. The other was used first by a Sister who was on the staff of the parish, later for caretakers whom the Church was employing and is now let to tenants.
Upgrading was considered in 1976, but a report declared the building to be beyond hope, and a meeting of parishioners voted thiry-one to eight against building a new one. However, a bequest in 1983 made building a new hall more viable, especially since previous bequests had for a long time been put in a 'New Hall Fund'. Further fund-raising and money from the sale of St Alban's ensured the new hall was debt-free by the time it was dedicated by Bishop Peter Mann in 1986.
There was still a gap between the Church and the new Hall, but in 1999 an additional structure (generally known as the Link) was built to connect them. It now acts as a foyer and the main entrance to both buildings.
The Hall is used by the parish, but also by many other groups (such as the Stroke Club) who have no formal connection with the Church.
57 Baker Street, Caversham, Dunedin, New Zealand +64-3-455-3961 : or e-mail us