C. J. Somers-Edgar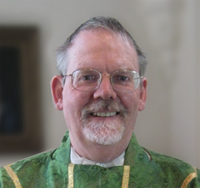 Father Carl Somers Edgar was born in Dunedin in 1946. After leaving Otago Boys' High School, he studied History and Philosophy at the University of Otago.
He trained for the ministry at Saint Stephen's House, now part of Oxford University, and was ordained priest in St Paul's Cathedral by the Bishop of London for Holy Trinity Northwood, Middlesex.
His second curacy was at All Saints' Margaret Street (not far from Oxford Circus), one of the best-known of all Anglo-Catholic churches.
He was the Vicar of St Mary's Liscard in Wallasey (on the other side of the Mersey from Liverpool) from 1982 until 1985 when he returned to Dunedin to become Vicar of Saint Peter's Caversham, where he remained until retiring in January, 2011.
He has also been a Chaplain to St Barnabas' Rest Home, to the Police, and to the staff of the Dunedin Men's Prison.
In retirement, Father Carl hopes to update his blog more regularly than has been possible while looking after a parish.
57 Baker Street, Caversham, Dunedin, New Zealand +64-3-455-3961 : or e-mail us