If you would like to support Saint Peter's but are not able to attend our services to make an offering, you can donate here.

Coming Events
Saturday, 4 November : Parish Garage Sale
Tuesday, 7 November : Caversham Lecture. Dr Andrew Geddis discusses our current legal and human rights in the light of recently enacted surveillance and counter-terrorism legislation
Sunday, 12 November : Armistice Day Service at 10.30am
Tuesday, 14 November : Caversham Lecture. Professor of Biomedical ethics Grant Gillett . Opening the Mind: Confessions of a brain surgeon
Sunday, 19 November : Reverend Jonathan Hicks is guest preacher
Tuesday, 21 November : Caversham Lecture. Rachel Zajac, University of Otago psychology department, specialist in forensic psychology. Wrongful Conviction–what goes wrong when wrongful convictions occur
Sunday, 26 November : Feast of Christ the King. Archbishop Sir David Moxon presides and preaches
Tuesday, 28 November : Caversham Lecture. Archbishop Sir David Moxon – The current state of Anglican Roman Catholic relations
Tuesday, 5 December : Caversham Lecture. Dr Margo Barton. Citizen Stylist project
New Bishop visits
Our new Bishop was installed on 22 September. On the 23rd he led hist first Diocesan Synod (which was held at Saint Peter's) and on the 24th he preached and celebrated our 10.30am Service.
Watch the Service in high definition on our Services page, or listen to the Bishop's sermon from the pulpit.
The Rock
The September edition is now available online. Printed copies will be available in Church from Sunday while they last, but you get it first and forever online! See below how to get a handy email when each new issue is available.
Our Printed Heritage page now includes all available issues up to September of 1961.
Archdeacons in the news
Two of Saint Peter's connections have featured in the Otago Daily Times recently.
Archdeacon Neville Selwood was awarded France's highest honour, the legion d'honneur (Legion of Honour). Read the ODT article. And remember You can see the archdeacons's recollections of his time in Bomber Command here in High Definition.
Archdeacon Bernard Wilkinson was awarded the first ever Mayoral Commendation Award by the Mayor of Waitaki. Read the ODT article.
New Bishop elected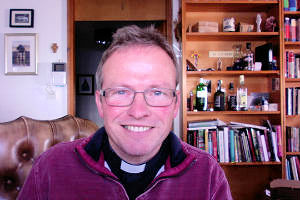 Father Steve Benford (pictured at left in a photo. from his current parish's website), currently Vicar of St Joseph the Worker in Northolt, London, has been elected the next Bishop of Dunedin.
See the announcement on the Dunedin Diocesan website.
Read the Otago Daily Times announcing the election of our new Bishop.
Visit our new Bishop's current parish website.
Memorial window dedicated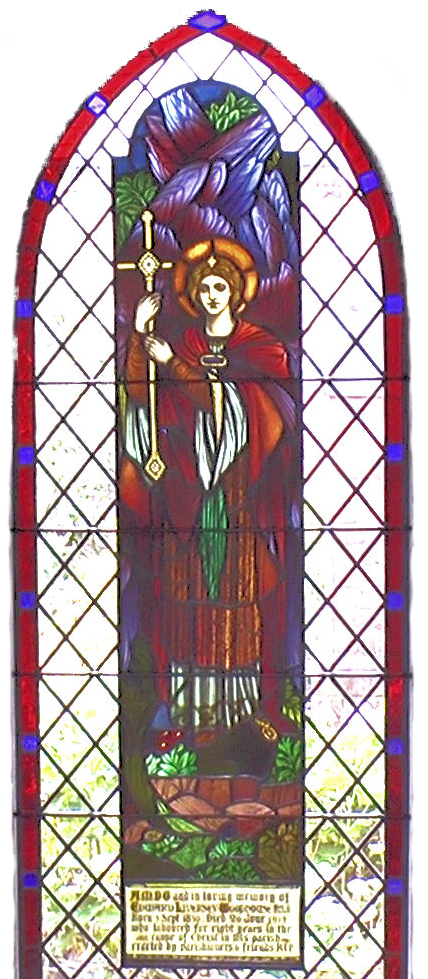 The Woodhouse Memorial Window (pictured here), recently removed from Holy Cross St Kilda and now installed in Saint Peter's, was dedicated at the 10.30am Service on 7 May.
Video and still images of the dedication ceremony are available in our photo. gallery.
Video of the entire Service is available here.
Or watch just the dedication ceremony here.
You can see further photo's of the Woodhouse Memorial Window in its new location in the photo. gallery.

Warden in Japan
People's Warden Kate Paterson visited family in Japan recently and sent us these snapshots. See them in our Photo. Gallery.
Popular Videos
Removing the Holy Cross memorial windows
On 16 December, 2016 four memorial windows were removed from Holy Cross and prepared for relocation at Saint Peter's.
Watch a short video of the windows' removal here.
Night Skies over the Third Reich
On Tuesday, 31 January, Saint Peter's hosted Archdeacon Neville Selwood. Over 45 people listened to him talk with Vicar Hugh Bowron about his experiences as a Lancaster navigator during World War 2.
You can see the archdeacons's recollections of his time in Bomber Command here in High Definition.
Choral Evensong
On 17 July, the Choir of St Paul's Cathedral visited Saint Peter's and sang Choral Evensong and Benediction, with Rachmaninov's Magnificat and Nunc Dimittis in the original Church Slavonic. Another wonderful special Service which you can see below.
We also have videos available of: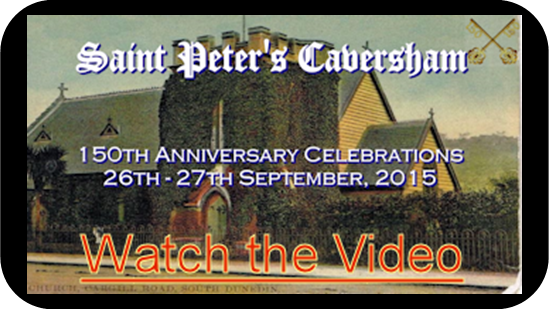 the Diocesan Synod Service
the 150th Anniversary Solemn Sung Eucharist
Bishop Victoria Matthews' sermon at the 150th Anniversary Service
A documentary of highlights from the 150th Anniversary weekend - including, in full, Our Vicar's talk on Colourful Past Vicars of Saint Peter's
Check the 'Services at Saint Peter's' page in the menu for video of the Services and sermon. The 150th Anniversary Highlights video is available here.
Recent Photographs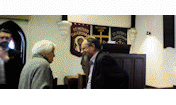 Sunday Serenade, June 2017
A concert of British art music raised over $700 for the woodhouse Memorial Window.
See the Sunday Serenade photo's now.

Christmas and New Year's Eve 2016
The Photo. Gallery gives you an idea of the mystique of candle lit Services.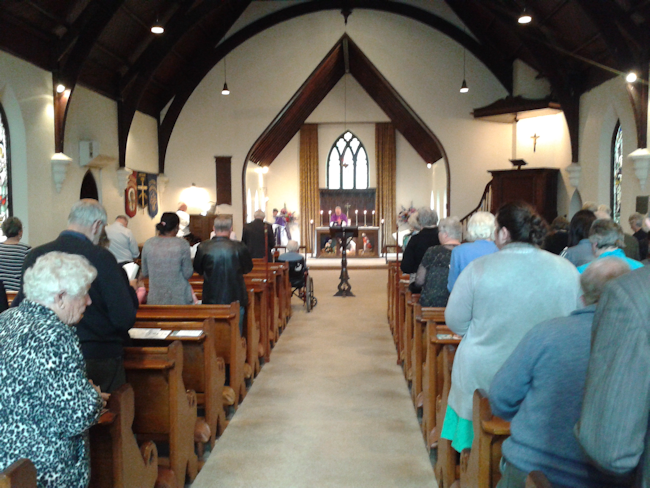 Festival of Nine Lessons and Carols
A large congregation joined in the traditional Festival of 9 Lessons and Carols on Sunday, 18 December. More photo's are in the Photo. Gallery

Karsyn Ludlow baptised
Karsyn Rex Ludlow was baptised on 27 November by Our Vicar, Father Hugh Bowron. We have photo's of Karsyn's baptism in the photo. gallery.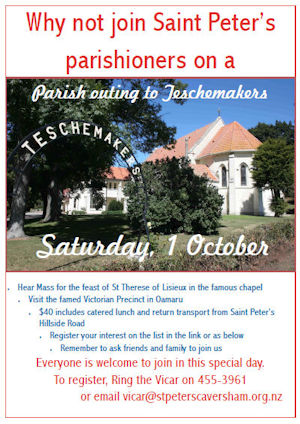 Day trip to Teschemakers
On 1 October Saint Peter's took a coach trip. See the photographs of our day trip to Teschemakers in the photo. gallery.

Gardeners at work
On 10 September we held a Spring working bee in the curch grounds. See the photo's of parishioners at work in our photo. gallery.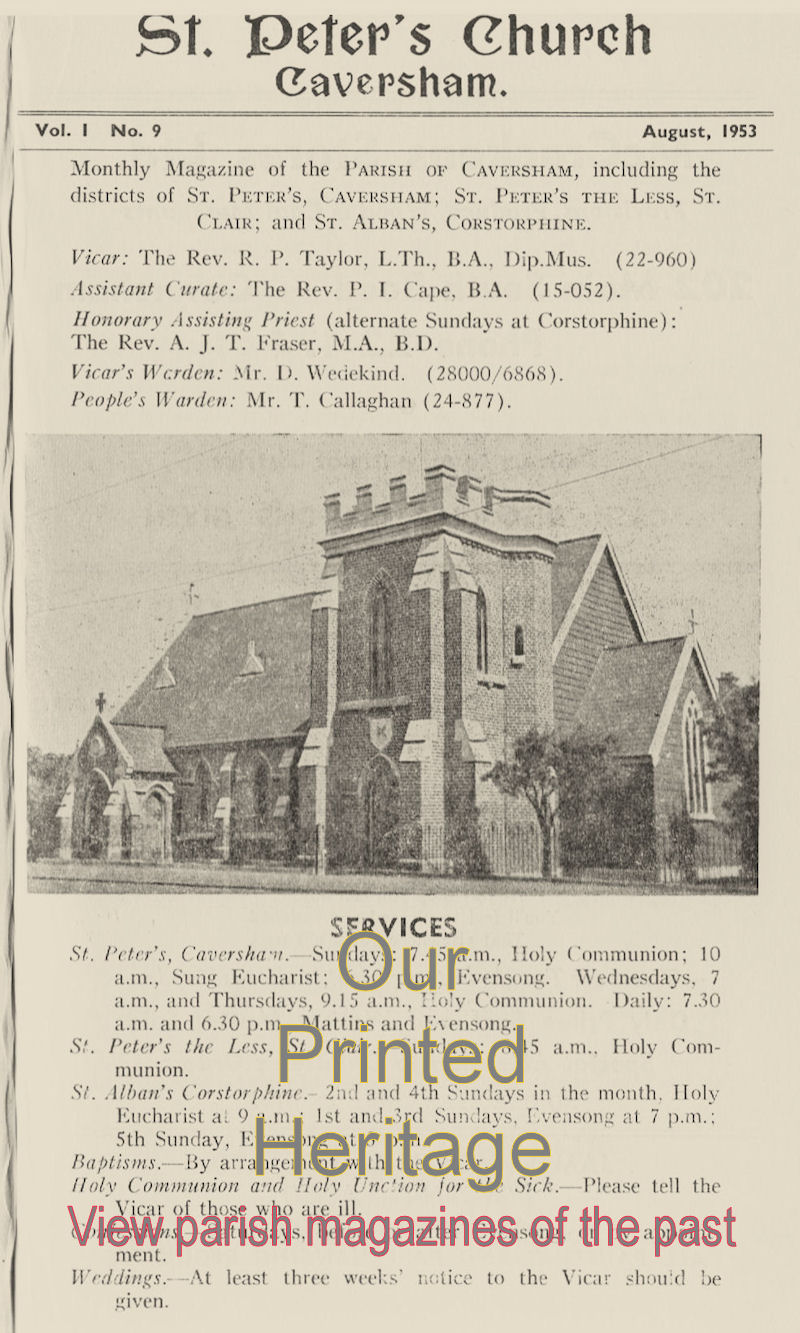 Our Printed Heritage
An additional issue of our early parish magazines is added to our online archive each month when The Rock is published..
All those from December 1952 (the earliest one) to this month in 1960 are now available.
Do It Online

Register for new sermon notifications

Register for email notification of Caversham Lectures news

Register for email notification when 'The Pebble' becomes available online each week

Register here to get an email each time 'The Rock' online edition is published

To update your details on the parish roll, email RollUpdate@stpeterscaversham.org.nz with your name/s, address, email address and telephone number

Log in to Parishioners' pages

Log in to Vestry Members' pages.
57 Baker Street, Caversham, Dunedin, New Zealand +64-3-455-3961 : or e-mail us