The Pulpit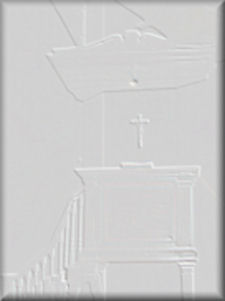 Latest postings:
Father Hugh Bowron
Just deserts
Ordinary 24 : 17 September 2017

Prompted by this morning's readings, Our Vicar ponders the nature and place of forgiveness.
Father Hugh Bowron
Modern discipline
Ordinary 23 : 10 September 2017

The modern church must maintain standards without recourse to easy sanctions which were available to the ancient –and even only slightly older–church. So what to do? Give up? Or find another way.
Father Hugh Bowron
Bearing our cross
Ordinary 22 : 3 September 2017

We can edit out the unhappy bits when watching a movie, but not so in real life. Our Vicar considers what the unhappy bits can offer.
Father Hugh Bowron
Making Anglican sense of the Pope
Ordinary 21 : 27 August 2017

Anglicans are in a way the middle road – not centrally controlled as with the Roman Catholic Church, yet nominally a single global congregation. Can this continue or must things change?
Father Hugh Bowron
Anglicans and Others
Ordinary 20 : 20 August 2017

The Scandal of Particularity suggests one religion is as good as any other – can we accept that? – Should we?
Father Hugh Bowron
Anglican Mary
The Assumption : 13 August 2017

As we celebrate the Feast of the Assumption, Our Vicar considers just what Mary means – can mean – to Anglicans.
Father Hugh Bowron
Thinking about Jesus
The Transfiguration : 6 August 2017

On the Feast of the Transfiguration Our Vicar considers how Jesus has been seen over the ages.
Father Hugh Bowron
That smudged and indistinct image
Ordinary 17 : 30 July 2017

We are told we are made in the image and likeness of God – but just what does that mean?
Father Hugh Bowron
Dealing with evil
Ordinary 16 : 23 July 2017

There are those who want God to do it all for us –'striking down malefactors, raising up the righteous and preventing bad things happening to good people.' This is not how it works–nor could it–nor should it explains Our Vicar.
Father Hugh Bowron
Parable paradoxy
Ordinary 15 : 16 July 2017

Jesus often taught in parables, but they can seem to obscure as often as elucidate and it is tempting to think they do not apply to us because we have heard them all before. Our Vicar suggests otherwise.
Older sermons
57 Baker Street, Caversham, Dunedin, New Zealand +64-3-455-3961 : or e-mail us