The Pulpit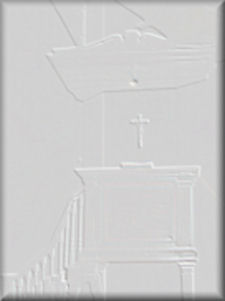 Latest postings:
Father Hugh Bowron
Anglican Mary
The Assumption : 13 August 2017

As we celebrate the Feast of the Assumption, Our Vicar considers just what Mary means – can mean – to Anglicans.
Father Hugh Bowron
Thinking about Jesus
The Transfiguration : 6 August 2017

On the Feast of the Transfiguration Our Vicar considers how Jesus has been seen over the ages.
Father Hugh Bowron
That smudged and indistinct image
Ordinary 17 : 30 July 2017

We are told we are made in the image and likeness of God – but just what does that mean?
Father Hugh Bowron
Dealing with evil
Ordinary 16 : 23 July 2017

There are those who want God to do it all for us –'striking down malefactors, raising up the righteous and preventing bad things happening to good people.' This is not how it works–nor could it–nor should it explains Our Vicar.
Father Hugh Bowron
Parable paradoxy
Ordinary 15 : 16 July 2017

Jesus often taught in parables, but they can seem to obscure as often as elucidate and it is tempting to think they do not apply to us because we have heard them all before. Our Vicar suggests otherwise.
Father Hugh Bowron
Different loads
Ordinary 14 : 9 July 2017

We are all called to play our part, but not all parts are the same and that should not worry us.
Father James Harding
Giving thanks
Corpus Christi : 18 June 2017

Visiting us on Corpus Christi, Father James Harding looks at the Eucharist and thanksgiving.
Father Hugh Bowron
Pentecost Double Bill
Pentecost : 4 June 2017
Spirit at work

On the feast of Pentecost, Our Vicar looks at how The Holy Spirit works wonders with us.
Bishops past

and at Evensong he discusses the special contributions of early Bishops of our diocese – just as a new one is about to be appointed.
Father Hugh Bowron
Advocacy
Easter 6 : 21 May 2017

In some ways Christ may be seen as our advocate with The Father. But can we effectively advocate with Him directly?
Father Hugh Bowron
Places
Easter 5 : 14 May 2017

The emperor Constantine's mother, Helena, initiated a new development – the identification of places which were a geographical part of Jesus' life and the habit of visiting them. Is this a good thing? – a useful thing? – a distraction?
Father Hugh Bowron
Shared history
Easter 4 : 7 May 2017

This morning we dedicated the Woodhouse memorial window, recently recovered from the deconsecrated Holy Cross church and installed at Saint Peter's. Our Vicar looks at some of the shared history of the two parishes.
Father Hugh Bowron
20 Scenes
Easter 3 : 30 April 2017

Something of a movie buff, Our Vicar looks at this morning's Gospel reading with a film critic's eye – and finds a truth.
Father Hugh Bowron
Sources of Faith
Easter 2 : 23 April 2017

'Is it a religious experience that brings people to belief in faith?' Listen for Our Vicar's answer.
Father Hugh Bowron
Nothing New
Easter Day : 16 April 2017

We are inclined to think of scepticism as a modern habit, but it was alive and well even at the time of the first Easter. So how did Christianity grow, spread and prosper for 2000 years and counting? Our Vicar explains.
Father Hugh Bowron
Looking back
Good Friday : 14 April 2017

We tend to look back on life and wonder 'what if' – but Christ's life is a template for the future.
Father Hugh Bowron
Earthquake
Palm Sunday : 9 April 2017

Today's Passion Narrative describes an earthquake occurring just after Jesus breathes His last. Why does it get such heavy-handed coverage?
Father Hugh Bowron
Skirmishes with death
Lent 5 : 2 April 2017

Death, 'the last enemy', is part of life, but for Christians it is more than that.
Father Hugh Bowron
Confronting Evil
Mothering Sunday : 26 March 2017

Was Jesus just young and stupid when he provoked those around him, or was it all part of God's purpose?
Father Hugh Bowron
Luther and Us
Lent 3 : 19 March 2017

Five hundred years after Martin Luther nailed his theses to a church door, this morning's Epistle reading is central to Luther's argument. So what can we learn from this in the 21st Century?
Father Hugh Bowron
Growing Up
Lent 2 : 12 March 2017

' ...we might take a deep breath and use this Lenten season to identify the needy, immature ... bits of ourselves ... and ask Him to surround those not so wonderful parts of our lives with compassionate and healing love.'
Father Hugh Bowron
Temptation
Lent 1 : 5 March 2017

As Lent gets under way, Our Vicar ponders temptation – how it affects us and what we can do about it.
Father Hugh Bowron
Urban Harvest
Harvest Thanksgiving : 26 February 2017

It seems strange for an urban parish to make a fuss over the harvest, but Our Vicar discovers there is good reason for us all to take harvest to heart.
Father Hugh Bowron
Making Sense
6th Sunday in Ordinary Time : 12 February 2017

Making sense of the Bible and of religion in general requires making sense of ourselves – no easy thing, but we have been shown the way.
Father Hugh Bowron
The Faithful Few
Candelmas : 5 February 2017

Living in an age when the number of professing Christians seems to reduce every time new figures are published, it is easy for us to lose heart. But be of good cheer, Our Vicar says it was always thus – and numbers are not the be all and end all anyway.
Father Hugh Bowron
The God Bit
4th Sunday in Ordinary Time : 29 January 2017

The Beatitudes have been taken by many as the foundation of their faith. But many of these people are missing the most important part.
Father Hugh Bowron
Why Geography Matters
3rd Sunday in Ordinary Time : 22 January 2017

'We need to know the details of the place in which Jesus lived and ministered because they shed light on the message he preached.'
Father Hugh Bowron
Nothing new?
Baptism of the Lord : 15 January 2017

'Inclusiveness' is quite the fashionable attitude of the early 21st Century. Today's sermon finds it featuring in the Acts of the Apostles though and Our Vicar says it has always been and should always be a hallmark of Christian life.
Father Hugh Bowron
Significance of wise men
Epiphany : 8 January 2017

Why did the magi turn up for Christ's birth? Was it politics perhaps? Or the beginning of a greater human striving for understanding?
Father Hugh Bowron
Forming faith
St Basil the Great and St Gregory Nazianzen : 1 January 2017
Celebrating the Feast of St Basil the Great and St Gregory Nazianzen, Our Vicar looks at their part in forming the faith we profess.
Part 1 : preached at the morning Eucharist

Part 2 : preached at Evensong : 'And don't forget Gregory of Nyssa.'

Father Hugh Bowron
Shepherds and sheep
Christmas Day : 25 December 2016

On Christmas morning Our Vicar ponders what makes a good shepherd and whether we make good sheep.
Father Hugh Bowron
In His own time
Advent 3 : 11 December 2016

'...God is directing the human story in His own way and in His own time...' – so perhaps we should just chill!
Father Hugh Bowron
What is a prophet?
Advent 2 : 4 December 2016

From James K. Baxter, via John the Baptist and Bob Dylan, Our Vicar ponders the nature of prophets.
Father Hugh Bowron
The nature of judgement
Advent 1 : 27 November 2016


Our Vicar begins Advent with two sermons on the nature of judgement and why we should not rush to see it all around.
Father Hugh Bowron
Authority and trust
Christ the King : 20 November 2016

'Becoming a Christian means agreeing to give Jesus Christ your glad obedience' – not a populist thought these days perhaps, but of the essence for all that.
Father Hugh Bowron
History again
Feast of the dedication : 13 November 2016

On the feast of the dedication of Saint Peter's Our Vicar gives another update on his researches into our parish history.
Father Hugh Bowron
Purgatory
All Souls : 6 November 2016

'I think it's a doctrine which Christians can honestly have differences of opinion about' – so what does happen when we die?
Father Hugh Bowron
The Problem with Saints
All Saints : 30 October 2016

On All Saints Day Our Vicar ponders just what makes a Saint and who can be or even is unwittingly already a Saint.
Father Hugh Bowron
Retail Spiritualism
Ordinary 30 : 23 October 2016

Spiritualism is becoming more popular, but is it the real thing? – Come to that, what is the real thing?
Father Hugh Bowron
Prayer that changes things
Ordinary 29 : 16 October 2016

'Is it legitimate to pray for good weather?' So starts Our Vicar's look at what prayer can do and how we can do it.
Father Hugh Bowron
Thankful Spirits
Ordinary 28 : 9 October 2016

Our Vicar looks at the importance of being actively thankful for the good things in our lives.
Father Hugh Bowron
Depth of Faith
Ordinary 27 : 2 October 2016

'How deep is your faith?' – Our Vicar looks at the need for continuing conversion in our lives.
Father Hugh Bowron
Better to Serve in Heaven
Ordinary 26 : 25 September 2016

'If God did that we wouldn't need faith...' – would that matter? – why?
Rev. Dr James Harding
Struggling with Hypocrisy
Ordinary 25 : 18 September 2016

This morning's readings concern the human propensity to say one thing in prayer and behave differently in life. Is this avoidable in the modern world?
Father Hugh Bowron
Breaking Bread
Ordinary 22 : 28 August 2016

'Meals meant a lot for the ministry of Jesus...' And they are important still – but is it only the food and conversation which matter?
Father Hugh Bowron
Complacent Religion
Ordinary 21 : 21 August 2016

'Salvation isn't handed out with the rations.' We need to keep working on our faith to make the most of life.
Older sermons
57 Baker Street, Caversham, Dunedin, New Zealand +64-3-455-3961 : or e-mail us