The Pulpit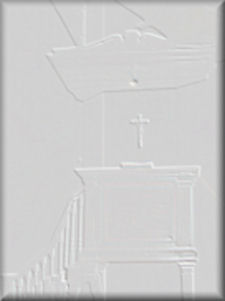 Latest postings:
Father Hugh Bowron
That Enrapturing Vision
Lent 5 : 18 March 2018

As Holy Week approaches, Our Vicar looks at Our Lord's earthly mission and how it altered at the cross.
Brian Kilkelly
Mothering Us
Mothering Sunday : 11 March 2018

Our guest preacher – a Saint's parishioner – looks at the essences of motherhood, how they appear in all of us and are fundamental to the Church.
Father Hugh Bowron
Three events and a promise
Lent 3 : 4 March 2018

In a follow-up to last week's sermon, Our Vicar looks into the Old Testament. How reliable is it? What does it really tell us?
Father Hugh Bowron
Pagan Influence
Harvest Festival : 25 February 2018

Harvest Festival is an opportunity to consider the influence and risks of basing Church festivals on pre-Christian habits.
Father Hugh Bowron
Little Angels
Lent 1 : 18 February 2018

As Lent gets under way, Our Vicar suggests it is a good time to give the angelic side of our natures a chance to shine.
Father Hugh Bowron
Mystery and Power, Respect and Awe
Ordinary 5 : 4 February 2018

Secular versions of Jesus ignore what is really important. And with Lent looming we do well to concentrate on what is important.
Father Hugh Bowron
Tories at Prayer?
Ordinary 4 : 28 January 2018

Starting from disruptions during Services, visiting Marks's Gospel then noting the state of the modern church, Our Vicar arrives at the importance of confidence in God.
Father Hugh Bowron
Be Thankful
Ordinary 3 : 21 January 2018

This morning's readings perhaps boil down to this thought – Be Thankful.
Father Hugh Bowron
Closer than Kissing
Ordinary 2 : 14 January 2018

'I'd be prepared to bet that most clergy this Sunday will pass over the Corinthians reading in silence...' – but not Our Vicar, who considers Christchurch, Corinth, cohabitation and Church as he looks at the place and importance of marriage.
Father Hugh Bowron
Family paradoxes
Holy Family : 31 December 2017

On the Feast of the Holy Family, Our Vicar looks at Jesus' family and considers what family – both blood and Christian – mean to us.
Father Hugh Bowron
Honouring Advent
Advent 3 : 17 December 2017

Advent is not simply a preparation season for Christmas. It has its own place in our faith and deserves respect. As evidenced in this morning's Gospel.
Brian Kilkelly
Found in the wilderness
Advent 2 : 10 December 2017

A guest preacher considers the importance of the wilderness – physical or metaphorical – in our spiritual development.
Father Hugh Bowron
No Time is Slack Time
Advent 1 : 3 December 2017

What should we do about the current secular attack upon Christianity?
Older sermons
57 Baker Street, Caversham, Dunedin, New Zealand +64-3-455-3961 : or e-mail us