The Pulpit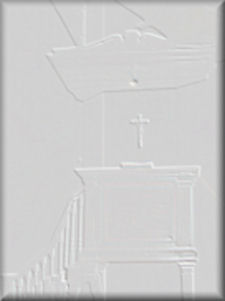 Latest postings:
Father Brian Kilkelly
No soft message
Advent 3 : 16 December 2018

A look at the work of John the Baptist – a direct and plain preacher.
Father Hugh Bowron
Taking someone a little way along the road
Advent 2 : 9 December 2018

Considering the ways we influence – without always knowing so – those around us, Our Vicar looks at Scriptural and contemporary examples.
Father Hugh Bowron
Coming in a cloud
Advent 1 : 2 December 2018

As Advent begins, Our Vicar looks at just how the Second Coming may happen – and how or whether we can know when.
Father Brian Kilkelly
King of our lives
Feast of Christ the King : 25 November 2018

Father Brian looks at Our Lord's leadership style and differences to those of earthly leaders.
Father Hugh Bowron
The Church which almost was
Feast of the Dedication : 18 November 2018

As we celebrate the Feast of the Dedication of our Church, Our Vicar tells some of the story of the mission Church of St Peter the Less ‐ including the tale of the Church which was almost built.
Father James Harding
Remembering
All Souls : 11 November 2018
Armistice Day, 2018


One hundred years after the Great War ended, Dr Harding talks about impressions and lessons from recent visits to war graves on the Western Front and looks at how Christians respond to war.
'I might have been expected to return from my visits to the Western Front an ardent pacifist, but I did not. ... While war is undoubtedly evil, we are living in a fallen world and sometimes it is necessary.'
Father Hugh Bowron
Keeping faith with the past and the future of the church
All Saints : 4 November 2018

'There has been rather too much emphasis on the here and now dimension of Christian life in the way the Faith has often been talked about in recent years'
Father Brian Kilkelly
From Dark to Light
Ordinary 30 : 28 October 2018

Struck by this morning's reading from Mark's Gospel, Our Assistant Priest looks at the ways we can move from darkness into light.
Father Hugh Bowron
Listening Ears
Ordinary 29 : 21 October 2018

Fresh from a month's leave, Our Vicar discusses whether it is possible to usefully take on the worries of others.
Father Hugh Bowron
Recognising Ritual
Ordinary 22 : 2 September 2018

Our Vicar considers the place of ritual in our lives and worship.
Father Hugh Bowron
Groupies or Loyal Fans
Ordinary 21 : 26 August 2018

Are we here–for–a–season Christians or the loyal lifelong friends of Jesus, with Him in His church until the end?
Father Hugh Bowron
His real presence Sunday by Sunday
Ordinary 20 : 19 August 2018

An explanation of what Anglicans understand by Christ's real presence in the Eucharist.
Father Hugh Bowron
Perplexed and Embarrassed
The Transfiguration : 8 August 2018

Our Vicar discusses the 'deeper meaning and significance' of the Transfiguration.
Father Hugh Bowron
Dealing with Diversity
Ordinary 16 : 22 July 2018

As this morning's reading from Ephesians shows, the question of how diverse people can happily coexist is not new to our times. What can Ephesians tell us about how we can and should approach diversity amongst our fellows?
Brian Kilkelly
Two By Two
Ordinary 15 : 15 July 2018

Pondering today's Gospel reading, Our Deacon considers the importance of togetherness in our Christian walk.
Father Hugh Bowron
Catholicisation of Saint Peter's
Patronal Festival : 1 July 2018

'As is my recent custom on the Patronal Festival...' Our Vicar introduces the next instalment of his researches into our history; this time it is the period when Saint Peter's became an established Anglo-Catholic parish.
The Right Reverend Dr Steven Benford, Bishop of Dunedin
Service
Ordination of Brian Kilkelly : 10 June 2018

Preaching during the Ordination Service for Brian Kilkelly, the Bishop emphasises the duty of service incumbent upon the clergy.
Or watch the Bishop's Ordination Sermon on YouTube.
Father Hugh Bowron
End of Time
Corpus Christi : 3 June 2018

We are used to seeing time as a single continuum – it moves inexorably in one direction. Events like the Resurrection though are present in both the past and the present; in both the present and the future. Our Vicar looks at how we might understand this.
Father Hugh Bowron
Amazing Things
Pentecost : 20 May 2018

Not everyone is convinced of the usefulness of various exuberant practices of the evangelical and charismatic movements but, says Our Vicar, '...The Holy Spirit makes amazing things happen when that is required...'.
Father Hugh Bowron
Systems Theory
Easter 6 : 6 May 2018

Yes, even The Church now has Systems Theory. Learn all about it!
Father Hugh Bowron
Nurturing the vine
Easter 5 : 29 April 2018

Increased interest amongst New Zealanders in wines and wine making make the metaphor in this morning's Gospel easier for us to understand, but there is still plenty to ponder.
Father Hugh Bowron
Good Shepherd
Easter 4 : 22 April 2018

What does it mean to be a good shepherd? And what does Christ our shepherd offer us? – and our priests and ministers?
Father Hugh Bowron
Resurrection
Easter 3 : 15 April 2018

A look at the place of the Resurrection in life and theology.
Father Hugh Bowron
Life and Death
Easter Day : 1 April 2018

On the day of resurrection, Our Vicar looks into the real meaning of our birth, life and rebirth.
Father Hugh Bowron
That Enrapturing Vision
Lent 5 : 18 March 2018

As Holy Week approaches, Our Vicar looks at Our Lord's earthly mission and how it altered at the cross.
Brian Kilkelly
Mothering Us
Mothering Sunday : 11 March 2018

Our guest preacher – a Saint's parishioner – looks at the essences of motherhood, how they appear in all of us and are fundamental to the Church.
Father Hugh Bowron
Three events and a promise
Lent 3 : 4 March 2018

In a follow-up to last week's sermon, Our Vicar looks into the Old Testament. How reliable is it? What does it really tell us?
Father Hugh Bowron
Pagan Influence
Harvest Festival : 25 February 2018

Harvest Festival is an opportunity to consider the influence and risks of basing Church festivals on pre-Christian habits.
Father Hugh Bowron
Little Angels
Lent 1 : 18 February 2018

As Lent gets under way, Our Vicar suggests it is a good time to give the angelic side of our natures a chance to shine.
Father Hugh Bowron
Mystery and Power, Respect and Awe
Ordinary 5 : 4 February 2018

Secular versions of Jesus ignore what is really important. And with Lent looming we do well to concentrate on what is important.
Father Hugh Bowron
Tories at Prayer?
Ordinary 4 : 28 January 2018

Starting from disruptions during Services, visiting Marks's Gospel then noting the state of the modern church, Our Vicar arrives at the importance of confidence in God.
Father Hugh Bowron
Be Thankful
Ordinary 3 : 21 January 2018

This morning's readings perhaps boil down to this thought – Be Thankful.
Father Hugh Bowron
Closer than Kissing
Ordinary 2 : 14 January 2018

'I'd be prepared to bet that most clergy this Sunday will pass over the Corinthians reading in silence...' – but not Our Vicar, who considers Christchurch, Corinth, cohabitation and Church as he looks at the place and importance of marriage.
Father Hugh Bowron
Family paradoxes
Holy Family : 31 December 2017

On the Feast of the Holy Family, Our Vicar looks at Jesus' family and considers what family – both blood and Christian – mean to us.
Father Hugh Bowron
Honouring Advent
Advent 3 : 17 December 2017

Advent is not simply a preparation season for Christmas. It has its own place in our faith and deserves respect. As evidenced in this morning's Gospel.
Brian Kilkelly
Found in the wilderness
Advent 2 : 10 December 2017

A guest preacher considers the importance of the wilderness – physical or metaphorical – in our spiritual development.
Father Hugh Bowron
No Time is Slack Time
Advent 1 : 3 December 2017

What should we do about the current secular attack upon Christianity?
Older sermons
57 Baker Street, Caversham, Dunedin, New Zealand +64-3-455-3961 : or e-mail us